Residential & Commercial Energy Performance Certificates
Need an EPC for a residential or commercial building?

At Temple Chambers we offer a fast and efficient solution to your Energy Performance Certificate requirements so please contact us for information on 0800 0147 196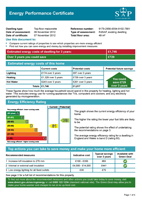 What is an Energy Performance Certificate (EPC)?
Energy Performance Certificates (EPCs) give information on how to make a residential or commercial premise more energy efficient and reduce carbon dioxide emissions. All residential and commercial properties bought, sold or rented require an EPC.
Why do we need an Energy Performance Certificate?
If you are selling or renting you now need a certificate by law. From October 2008 EPC's have been required whenever a building is constructed, sold or rented. The certificate provides 'A' to 'G' ratings for the building, with 'A' being very energy efficient and 'G' being increasing less efficient, with the average energy efficiency and CO2 rating now being 'D'.
What can we Learn from an EPC?
Information on your home's energy use and carbon dioxide emissions as well as a recommendation report with suggestions to help reduce energy use and carbon dioxide emissions.
What do the EPC's recommend?
EPC's provide a detailed recommendation report showing what you could do to help reduce the amount of energy you use  and your buildings carbon dioxide emissions. For example the Report would List:
Suggested improvements: for example; fitting/ increasing the loft insulation to a minimum of 300mm-
leading to possible cost savings per year(£);for example £250.00 to £100.00 per year, typical saving of £150.00 per year.
How the recommendations would change the energy and carbon emission rating of the property: from a rating of E to an increased rating of B.
There is no obligation for you to act on the recommendations in the final report. However, if you decide to do so, it could make your residential or commercial property increasingly more attractive for sale or rent. It is also worth remembering the property/ building you may be buying or renting will also have to have an EPC therefore detailing how you could increase the efficiency of your new home/ building and most importantly save you money.
The Green Deal
The Green Deal is the government's plan to help you make energy-saving home improvements at no upfront cost.

The Green Deal launched in October 2012. It may be able to help you make the property you live in warmer, more energy efficient and cheaper to run, without having to pay for the work upfront.
You choose which eligible energy saving improvements you want to make to your home. You then pay for the improvements over time through your electricity bill, at a level no greater than the estimated savings to energy bills.

If you move home, the Green Deal charge stays with the property and the repayments pass to the new bill payer.

If you do wish to make your property Energy Efficient or have any further queries regarding any of the above please do not hesitate to get in contact with Temple Chambers Surveyors ltd, by e-mailing beau.gamby@templechamberssurveyors.co.uk or calling 0800 0147 196.
Kings Group.

One of the largest independent property companies, with services that include, residential sales, lettings, property management, financial services and conveyancing.
Thomas Oliver.

Thomas Oliver are specialists in Wealth Management and Retirement Planning.
Metropolis Surveyors.

Specialist surveyors covering all aspects of professional property surveys from Mortgage Valuations through to Building Surveys.